Rector's office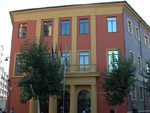 | Rector's office



Situated in the centre of the city in the former Veterinary Science building, now refurbished and modernised, this now contains the governing bodies, with the rector and administrative services.
In addition, there are rooms, exhibition halls, auditoriums and other facilities for congresses, conferences and various cultural activities. A teacher's hall of residence completes the make-up of this remarkable building, which has been restored and kept in the city to offer the people of León all the cultural activities programmed by the University, as well as those put on by specific Faculties and Schools.
The inauguration of the final stage of remodelling of this spacious building took place with a glittering academic act, attended by the nine rectors and the provincial and local authorities, and those of the autonomous region, on 18th December 1989.

Vegazana Campus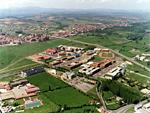 | Vegazana Campus




Near the provincial capital is the village of Villaobispo de las Regueras and an estate at Km. 3 on the Santander road, called "Vega" or "Huerta del Obispo", a relic of the former properties of the Bishop. It was acquired by the Caja de Ahorros y Monte de Piedad de León, for what was modestly called the University Centre of León, at the same time as laying the first stone for what would become the University College, now the seat of the Faculty of Arts.
The estate originally covered 24.7 hectares, to which were added other plots of land, plus the access from the district of La Palomera. The first entrance from the district of San Mamés, across the meadows of La Palomera, originally gave the campus its name, but this was later changed back to the present one of Vegazana.
The campus started to fill up with the first phase of the Faculty of Biology, and the Faculty of Veterinary Science was erected to the north of the Biology building. These buildings were laid out in a quadrangle which was completed by the Faculty of Law, with the cafeteria-dining hall and various university services situated in the centre of the four faculties.
Other buildings for more modern housing of the former University Schools arose, plus new centres of learning that have expanded the University and shaped this fine campus.

Ponferrada Campus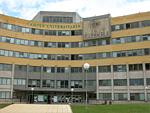 | Ponferrada Campus



Situated in the town of Ponferrada, at 110 kms to the west of León, the Ponferrada Campus looks to the future of the University of León.
It offers students very attractive degrees, such as BSc (three-year course) in Forestry and Agriculture: Industry and Food, Nursing, Physiotherapy, Cinema and Visual Arts, all of which are provided with modern equipment and services.
The first classes were given for the academic year 96/97 in the former hospital "Camino de Santiago" building.